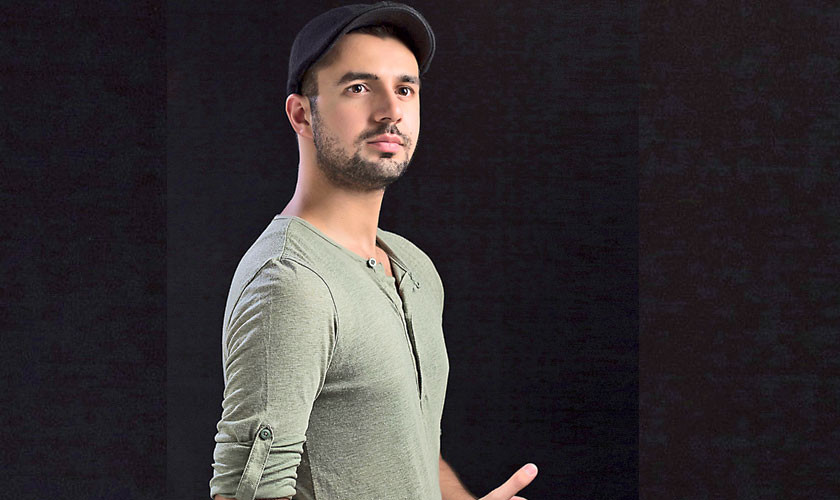 vsinterview with elebrity
Nuh Omar is a Pakistani filmmaker who has worked in film and advertising all over the world. He attended New York Film Academy and Full Sail University, where he graduated as a valedictorian. Ever since he was a child, Nuh knew he wanted to be a filmmaker. "My grandfather had a library of old VHS movies that I watched. I knew I wanted to make movies since I was 5, and my mom never discouraged my dreams, "says Nuh. He officially started his career in 2007 with music videos, shorts, documentaries and commercials and also worked as an assistant director.
His film 'Mojiza-E-Fun' (The Miracle of Art) about South Asian sculptor and art pioneer Shahid Sajjad was presented at the Engro Excellence Awards. He has written and directed over 100 episodes for the "The Fortress of Dorkness" YouTube web series. He is a fan of science fiction and fantasy, especially magical realism. He has lived and worked in Los Angeles, New York, Karachi and Dubai. These days, Nuh is working on three projects for television, two feature films and a short film. "The work I'm doing with New York writer Mark Davis on 'The Alexandrian' is the first one, and I'm currently writing my own TV project, called 'I'm Here'. And of course I'm working on it. 'The Fortress of Dorkness' show on YouTube, "Nuh tells us. In an exclusive interview with you! this talented director talks about his work and his likes and dislikes …
What is your field specializing in filmmaking?
I'm a director and writer by training, but I don't think you really specialize in a particular area of ​​cinema. I've done shorts, commercials, documents, music videos, promotions, bumpers, and now I'm heading into TV and feature films.
Your favorite genres in the movies:
My favorite genres in cinema are fantasy and science fiction, especially magical realism. I love, of course, the classics, like "Lord of the Rings", "Star Wars", etc. But I'm a big fan of some of the ones you don't usually see as the mainstream giants of pop culture, such as "The Dark Crystal", "Willow" and "Blade Runner".
How many films have you made so far?
Gosh, something like 25-30+ shorts, commercials, and web ads. Over 100 episodes of web series. Now entered television and feature film which is a bigger engagement.
My film about the late sculptor Shahid Sajjad, "Mojiza-e-Fun" (The miracle of art).
Steven Spielberg. His "Jurassic Park" inspired me to become a filmmaker.
Who is your favorite Hollywood personality?
My former boss and personal mentor, producer Scott Gardenhour.
Who is your icon in the film industry?
Werner Herzog.
Who was your favorite movie star when you were growing up or as a teenager?
The late and great Omar Sharif. 'Lawrence of Arabia' is one of my three best films.
Your most irritating habit …
I love playing pranks on people, but it doesn't always turn out the way you want it to!
You don't like people who are …
Dishonest, unable to accept his faults.
Tornadoes.
Your most valuable asset:
A baby photo of my little brother that I have had in my wallet since I was a child. He has moved with me from portfolio to portfolio over the past 25 years.
Your favorite song of all time:
'Don't Stop Believin' by Journey.
To be idle, not to be able to explore. I have to keep the cogs moving at all times and discover and try new things, which hasn't been easy last year with Covid and all the lockdowns.
Reese's Peanut Butter Cups! Forget about eating healthy while they're hanging out.
Have you ever thought about producing / directing Pakistani films?
I have, and I have actually done some work here as well. It's just a tough market to sell projects like mine, like magical realism stories for example. In addition to some cultural restrictions on the types of topics you can discuss here in your stories. It's very limiting as a storyteller.
What's your favorite song these days?
'Village Lantern' by Blackmore's Night. If you like folk and fantasy, I highly recommend it.
If you had access to a time machine, which era would you revisit?
One of the earliest civilizations, ancient Sumer.
Song that always brings you to the dance floor:
"Super Trouper" by ABBA.
What's the last thing you bought?
Two toys: Masters of the Universe Origins He-Man & Skeletor. Huge MOTU fan, and these vintage number updates were too good to pass up.
What books are on your nightstand?
At the moment, I am re-reading the works of JRR Tolkien in chronological order, starting with "The Silmarillion".
Logging! Writing with a cup of coffee in hand is the most calming way to express myself and relax.
You get super uncomfortable when …
I'm pushed into conversations I'm not a part of. I'm a social butterfly, but I love my privacy and it's uncomfortable to be forced into a situation that you're not involved in.
A tossup between the Natural History Museum of Los Angeles or House of Secrets in Burbank, CA.
The most important relationship lesson you've learned so far …
Communicate, be honest and trust. A relationship is not a one-way street, and both parties need to understand this.
Something very few people know about you …
I am a huge nerd! Besides movies, I love comics and old cartoons from the 80s and 90s. I have been described as an encyclopedia of pop culture. I also like to collect figurines as a hobby. I have hundreds of them, and they're actually useful when you're creating a script or setting a scene for a movie!
How do you like to spend your Sundays?
Lying alone in my bed or spending time with someone I care for. Watch cartoons from the 80s and 90s with a cup of coffee nearby.
Where do you see yourself in 5 years?
Always do what I love, tell stories.
What are your future plans? Would you like to settle in the United States or will you come back to Pakistan?
I would probably move to Los Angeles, it's home away from home, but I love to travel. You go where the work is, so you never really set yourself up anywhere in this industry. I think with the kind of storytelling I'm doing, America is the perfect place to channel my creativity right now.
Realize the project of my dreams and use the profits to launch an initiative. I want to help people who don't have the capacity to help themselves. Something to help create opportunity for others, of course.