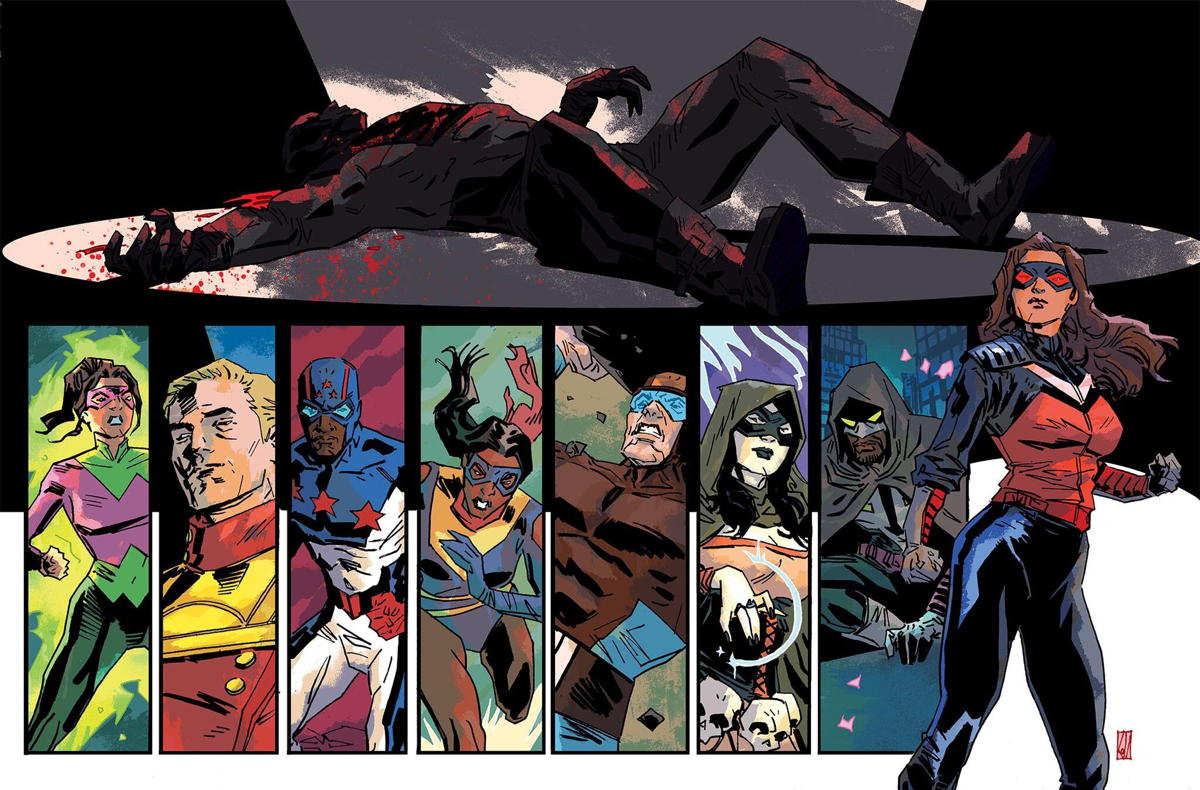 Zestworld launches new subscription comics platform with $9.37 million in funding
Zestworld, a new comics platform, has just announced its official launch and a funding round of $9.73 million.
The investors and creators involved are all A-listers.
Creators involved include Amanda Conner, Jimmy Palmiotti, Peter J. Tomasi, Eric Canete, Phil Jimenez and Alex Segura among many others.
The Series A funding was led by General Catalyst, with participation from by Alexis Ohanian Seven Seven Six, Polygon Technology, former CEO of TaskRabbit Stacy Brown Philpot, by Shari Redstone Founder of Advancit Capital and Twitch Kevin Lin.
(This isn't the first comic book dance for Ohanian, the co-founder of Reddit and Mr. Serena Williams, among many other accomplishments. He's been a lifelong comic book fan and was previously a co-founder of the webcomics merch company bread pig.)
As previously announced, Zestworld is committed to allowing creators to retain ownership, and the platform aims to "fracture the Marvel and DC duopoly by providing top-tier comic book creators with a centralized platform that combines business , community management, digital publishing, NFTs, metaverse events and intellectual property rights management. Zestworld's platform provides a fully stacked product suited to the idiosyncrasies of the comic book format and industry.
Separating the techworld talk, Zestworld operates on a subscription model, somewhat along the lines of the Substack adventure. A free membership lets you "talk with the creator" with membership tiers of $7 per month and $249 per year, getting you the comics and even more freebies respectively. Zestworld says it's a more flexible schedule that allows creators to work on their own schedule without fear of "shadowbanning."
But, as we've seen more and more over the past year, big tech and big media love comic books and aren't shy about investing, especially when you're rolling the crypto rams. Gilberti, the CEO of Zestworld, was until recently Spotify's head of film and TV, so he obviously knows how to talk and fundraise.
"The current landscape for comic creators to publish their work digitally and connect with fans is abysmal," said Alexis Ohanian, Founder, Seven Seven Six in a statement. "Zestworld brings together all aspects of the comic book creator business and community in a centralized platform that disrupts the way comic book creators publish and own intellectual property, while allowing fans to connect directly with creators in an entirely new way."
"In recent years, the comic book industry has exploded, producing worldwide hits on a scale unparalleled in entertainment history," said Chris Giliberti, Co-founder and CEO of Zestworld. "Compare this enormous popularity and franchise value with the livelihood of the creators who invented the beloved characters that dominate our culture. It's time to give this community its own dedicated platform specifically tailored to the comic book medium and its fans.
As noted, while media adaptation is the real source of revenue for comic properties, creators will retain all rights to comics published through the Zestworld platform. The platform will also enable interaction with creators, including private live streams, exclusive discord communities, access to behind-the-scenes opportunities, and the ability to directly order art.
"Finding creator-focused platforms is a real challenge in comics, and what Zestworld offers is refreshing and seamless," said Alex Segura. "Zestworld allows creators like me to publish my work on my own schedule, customize the benefits and how the creative team and I can interact with my audience, and allows us to retain full ownership of intellectual property rights over everything we post through the platform. That's a tough deal to beat.
The initial line-up for the series has been announced:
Eric Canete's ARC ATHENA – "Neon Gods" to their adoring audience, ARC ATHENA are the super-powered team the world desperately needs. Organized by the global technology and entertainment giant known as ARC, each member represents the most ambitious hero that public polling data can provide. Athena's roster consists of characters whose powers are perfectly fine for their obsessed audience but produce very low stopping power – it's all for "The Show".
THE AWAKENED by Alex Segura, Michael Moreci, Dean Kotz, Jason Wordie – A dark, dark superhero murder mystery that explores what the true definition of power is and who should wield it.
BLOOD TREE by Peter J. Tomasi, Maxim Šimić, John Kalisz, Rob Leigh – Follows two obsessed NYPD detectives on the hunt for a vicious butcher called Angel Killer, a sociopath who preys on innocent family members of known murderers in order to "purify" the rest of society.
BOOM POOF! by Amanda Conner & Jimmy Palmiotti – An immortal is awakened from her long slumber by a donut-throwing nuclear physicist's daughter. Together, BOOTY POW POW and KAY BOOM approach the modern world in their unique and special way.
FOUND by Jimmy Palmiotti, Juan Santacruz, Alex Sinclair – On a desert island in the middle of the Pacific, a volcano erupts and expels an alien object that has the potential to change the world. When this event is shared live by the family of scientists already there, world governments see the potential to own the technology and scramble to see who can access the object first.
OTHERWORLDS by Phil Jimenez – A reimagining of the Eisner-nominated Otherworld series, a sci-fi/fantasy epic about a war in another dimension, OTHERWORLDS tackles themes of family, identity, faith and purpose , exploring which voices will rise to shape the future and recreate the Earth, and how we all navigate a world where being "great" so rarely means being "good".
Clearly, Zestworld's stakeholders are determined to disprove the adage that you make a small fortune in the comics but start out with a big fortune – but luckily they've got some pretty good start-up capital to start with.
Related