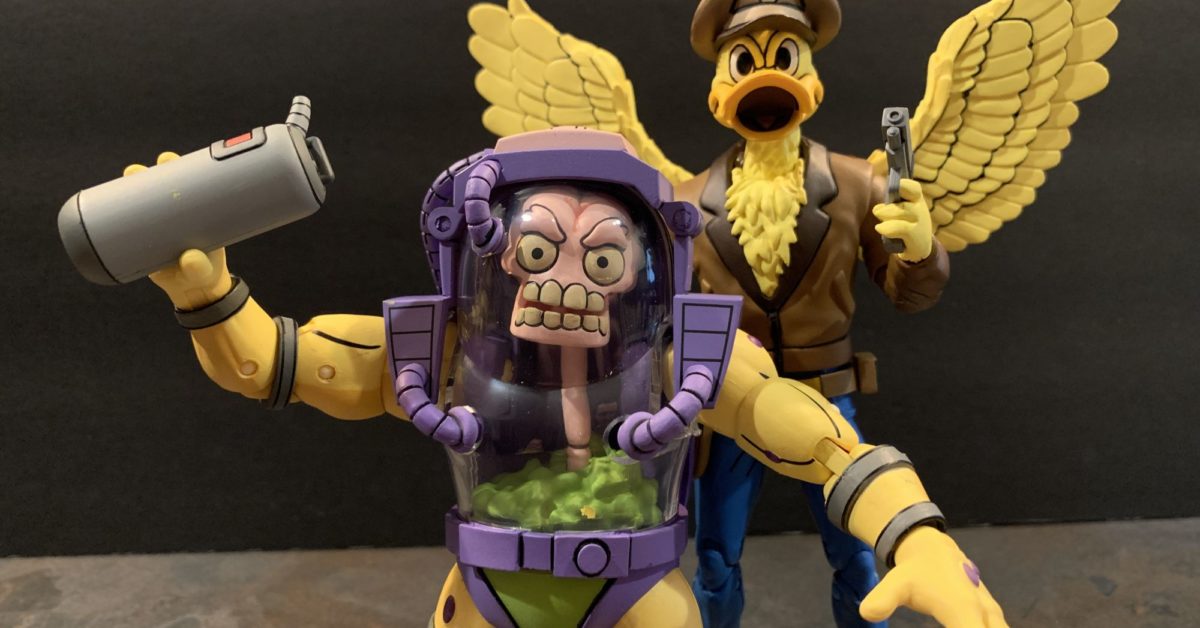 TMNT Cartoon Mutagen Man/Ace Duck Pack Continues NECA Line
NECA's continuing cartoon line of TMNT shows no signs of stopping, and today we're going to take a look at one of the sets that I personally wasn't looking forward to. I know I watched every episode of the old TMNT cartoon, but I don't remember Mutagen Man or Ace Duck being there for the life of me. I remember old playmates characters; I had those. Mutagen Man was a favorite, but I hated Ace. He was way too boring for me. This set was sent by NECA for us to look at, so thanks to them and let's take a look.
Credit Jeremy Konrad
Credit Jeremy Konrad
Every version of TMNT Empress
Standard box we still see for these two packs, and if it ain't broke, don't fix it. One day, when this TMNT line is said and done, having all of these MOCs lined up is going to be super awesome. They really couldn't have done better.
When I opened this set, if you had told me that I didn't like Mutagen Man, I would have thought you were crazy. It's always been a favorite, and while I really like what's here from a sculpting perspective, a few things bother me. First of all, it was very easy to remove its dome and mechanical tips to access the interchangeable head. The problem is to change your mind. It took me forever to get him to stay, and I was pretty sure at some point that I had snapped his brainstem. You also can't turn it around much, so you're kind of stuck with how you put it on. That being said, it looks so gnarly and different; I guarantee when people see this in your collection it will be a conversation piece. He has good reach on his arms and legs, and I like the way he holds that cartridge. At the end of the day, however, he's just kinda…standing there. Solid, but not spectacular.
Then you get the TMNT Ace Duck in your hands, and that's perfect. Talk about making someone a believer; this number blew me away. The wings, for starters, are so perfect. They balance well completely or folded up and nailed to the black outline of the fenders. And they fit perfectly into her back for one of the best tied wings for a figure I've ever seen. Genius also: make his invoice exchangeable. I can't decide which I prefer, the screaming one or the grinding one. He holds his guns perfectly, he's easy to pose in a number of dynamic ways, and he comes with a series poster and VHS tape. My only complaint is that his hat falls off a little too easily, but it will stick if you do.
Is this two-pack perfect? No. I kinda think Mutagen Man is boring, and Ace Duck is one of the ten best tricks in this TMNT so far. At this price, is it worth buying it for just Ace? I would say yes, but that's only because I'm blown away by Ace. This two-pack ships from NECA and is now arriving at Target stores.