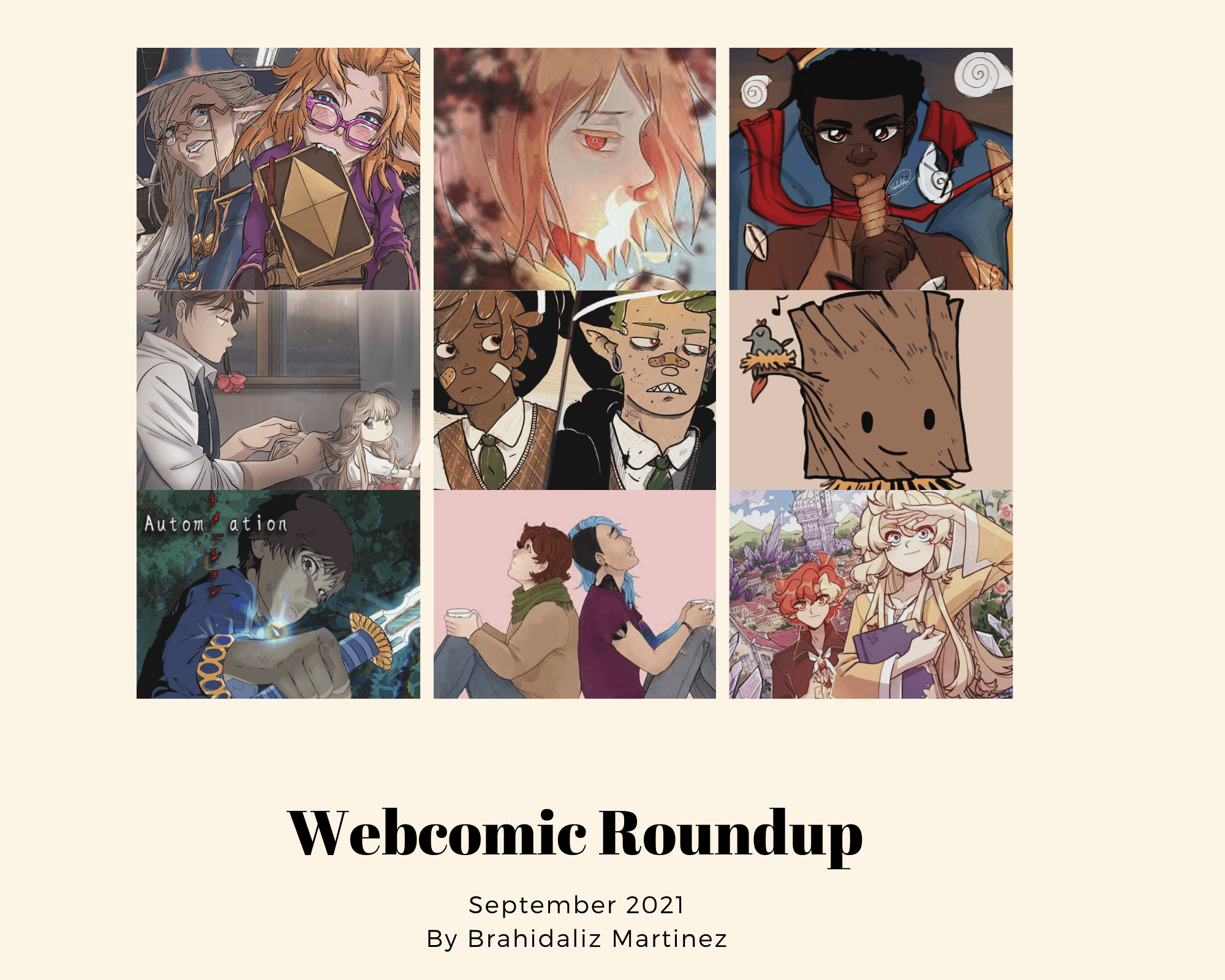 September 2021: Whimsical and Bittersweet Webcomics
The September theme includes fantastic stories that feel bittersweet and / or whimsical. Here you will find stories about enchanted forests, discovering yourself in magical schools, feeling like giving love to others and not receiving it yourself, and more. The 14 webcomics presented in this article come from WebToon and Tapas. *
I love the fall. For me, the season represents the bittersweet transition from those summer days to magical changes. The leaves become crisp and create a colorful carpet underneath. Cool days leading up to pumpkins, hay walks and settling by a campfire. Autumn reminds me of stories about discovering the magic in you. Below are 14 webcomics that relate to these feelings and more. Here we are!
After returning from a convention, Eddie cannot find his luggage in the baggage claim area of ​​the airport. She finds it in the lost and found items, but is then transported (literally inside her luggage) to another world. Three others, having also lost something important to them, join her and navigate a world where people live and sleep inside their backpacks, suitcases, etc.
I like the principle of Luggage. It is a tale of the physical and emotional baggage we carry. Season 1 is over, but I'm desperate for the next few episodes.
Find more black designer webcomics here.
Star house through saltacuentos & Lion Illustration (Completed)
Lily braves the forest to find the missing girls in her town. She finds herself in a fantasy world where the queen challenges her on a quest.
If you want Pan's Labyrinth or anything by Neil gaiman, you will probably enjoy this.
Knowledge of Olympus through Rachel smythe
An adaptation of the myth of Hades and Persephone. Unlike the world above, the gods of Olympus live among modern technology and luxury. Persephone moves there to go to college, but an incident at a party leads her to Hades.
For me, this is definitely one of the well-constructed and nuanced webcomics I have ever come across. Rachel handles sexual trauma and toxic relationships wonderfully with sensitivity and grace. And that says a lot because I'm not a big fan of Greek myth stories.
Discover Jamie Sugah's review on this amazing webcomic!
CW: rape and sexual assault
Small blessings through Whitherling (Completed)
In an old building, a tiny house spirit befriends the human woman who lives with them. Reading this is like settling in for the night with a cup of tea.
Also check out the creator's other webcomic, Crumbs.
For Elise by Korichire (The creator's site is not available)
Lee Yunsol wishes to participate in the doll festival. But then she has an accident and ends up in a coma. Her childhood friend Yoon Taewoo finally meets a walking talking doll. It turns out that this doll contains Yunsol's soul. The two work together to figure out how to return her soul to her body. A bittersweet webcomic about missed opportunities and reconciliation.
The first five episodes are available for free reading on Manta.
Roaming: Dawn by joicroud (Finished) (The creator's site is not available)
Dawn, the only survivor of the attack that demolished her house, appears after being reported missing. She wants to know what happened and why she's alive, so she searches for Platform, the one who destroyed her house. This webcomic is a well-executed gem with unexpected narrative twists.
There is also a complementary suite (in progress), Roaming: Roaming.
Ember through Hoodie song & Jiwo
A short story webcomic about an aspiring wizard trying to build his first golem. A magnificent story with an even more beautiful ending.
Twistwood Tales through Twisted wood
If I had to describe this webcomic to someone, I would say whimsical and healthy. A fairy tale within a fairy tale.
Automating through NamiRabbit
In a Victorian-inspired world, a young man named Frederick is charged with murder and imprisoned. There he meets the criminal in the cell next to him, a criminal who helps him escape. However, this criminal might as well have his ulterior motives to help Frederick.
CW: murder (on screen)
Getting kidnapped is the last thing on Vector's mind when he thinks about leaving his protected life to see the world. The bounty hunter who kidnapped him suspected him of being a criminal. But Vector didn't even do anything wrong. Accompanied by a cartographer and other traveling companions, he returns home and finds his adoptive mother. I admire the intriguing world-building and fun characterization of it.
glass castle through mioko-san
A magnificent webcomic with an imaginative construction of the world. The prologue and the introductions to the chapters are poetic. In a glass castle live a king and a queen and their daughter. So the girl betrays her kingdom. What will happen to the future of the kingdom?
Alec's ability to see brands that match soul mates leads him to a request from a friend. Alec is able to help find someone's soul mate, but he can't help but feel left out. When will he be able to find love and happiness for himself? I dig into the character dynamics in this story.
Starfish cross lovers through Beaskew
Aquacerian Prince Adam (a newt) doesn't want to go ahead with an arranged marriage, so he comes to the surface with his friends to look for a bride. He's got a human in mind, a young woman named Ruth who is visiting the seaside town for a funeral. After saving her from a near-drowning incident, he feels a connection between them, and he wants to find her and take her to the sea as a wife.
I admire the racial portrayal (the main characters are black, even Aquacestors and Androids) in this webcomic. Non-humans are not there for shock (i.e. torture). Plus, the humor, storytelling, and character dynamics are impressive.
Find more black designer webcomics here.
Love spells through Vinter
Welcome to Cosmos School of Spells, where there are problems even bigger than magical misadventures and hexes. Than gets caught drawing pictures of his crush in his notebook, amplifying his fears of being exposed. Other characters face their sanity or discover their gender or sexual orientation.
Webcomics I reviewed this month:
Pandora's Choice by Yudori
Seed by Saïd Polat
Beware of toddlers by George Gant
Sword Hall by Toonimated (Tara & Julian)
Webcomics by black creators to discover
Have you read any good webcomics lately (they don't need to match this month's theme)? Please feel free to comment below. I would love to hear from you!
–
For more great webcomics recommendations, check out our Wednesday Webcomics Archives! Plus, check out my previous comic book summaries online here.
–
* My mention of all platforms on this article is not sponsored.
Author:
Brahidaliz Martinez
Brahidaliz (pronounced Bra-da-leez) graduated in 2019 from the Masters program in Creative Writing at American University. They are Submission Editors for Uncanny Magazine. Their diverse areas of interest include intersectionality in apocalyptic and disaster films, artificial intelligence, writing for animation, YA SFF, and LGBTQ + portrayal in children's media.
Pronouns: he / they
Location: DC Metropolitan Area
Twitter: @brahidaliz
–
Read our before commenting.
Do not copy our entire content from other websites. Links are encouraged.
Copyright © The Geekiary
Related