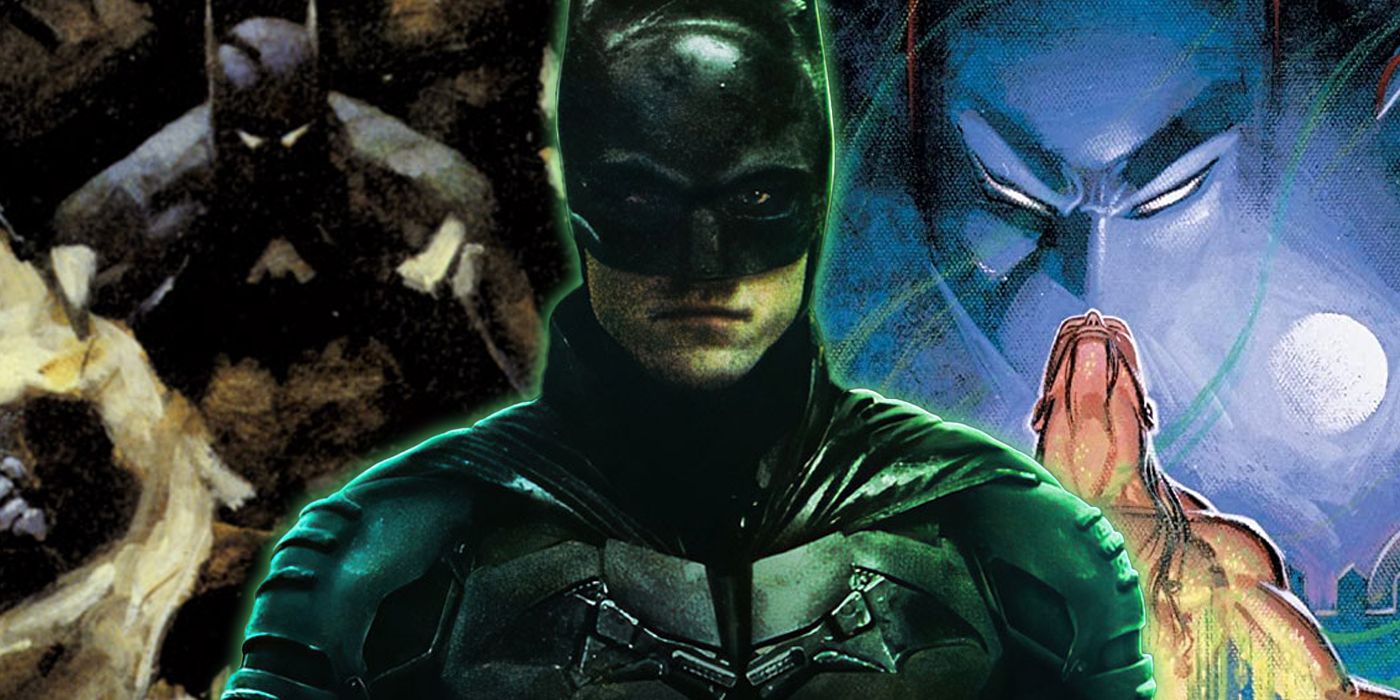 Robert Pattinson's Favorite Batman Comics Run Deeper Than You Think
Robert Pattinson's favorite Batman tales include some relatively obscure picks, including 1989's Shaman and 1993's Birth of the Demon.
For preparing The BatmanRobert Pattinson has delved into the comics featuring DC's famous Caped Crusader, uncovering a collection of off-the-beaten-path favorites.
As reported by Twitter user @pattinsonphotos and originally printed in issue 5 of Geek's Lair magazine, the actor chose Arkham Asylum: A Serious House on Serious Land, Batman: Damned, Birth of the Demon, Shamanand The Falling Man like his favorite comics to get into the mindset of Bruce Wayne. Among these, Pattinson particularly appreciated Batman: Damnedpointing out that throughout the story, "[Batman]wonders if he's even a human."
RELATED: DC Comics Is For Emo Fans, Says Batman Star Robert Pattinson
Pattinson's favorites, though all critically acclaimed stories, are relatively deeper cuts from the usual tales chosen by creators working on Batman live-action movies. Directors Zack Snyder and Christopher Nolan, for example, chose sons from 1986 Return of the Dark Knight and 1987 First year — both written by Frank Miller – as inspiration for their respective takes on Batman, and The Batman director Matt Reeves also pointed out First year as a major influence.
On the other hand, while Arkham Asylum: A Serious House on Serious Land was not the basis for a live-action film, the graphic novel written by Grant Morrison and illustrated by Dave McKean served as inspiration for Rocksteady Studios Arkham Batman video game trilogy. Renowned for its surreal side, the story was published in 1989 and features Batman investigating the titular asylum, learning its sordid history and confronting the depths of his own psyche.
Batman: Damned, released in 2018, is the most recent story on Pattinson's list. Written by Brian Azzarello and illustrated by Lee Bermejo, the Black Label book sees Batman team up with several magical DC characters – including John Constantine, Swamp Thing, and Zatanna – to solve the mystery of the Joker's death, an event that Batman does not know. don't remember.
RELATED: The Batman Star Describes the Unique Loneliness of DC Film Set
Birth of the demon and Shaman were both written by longtime Batman editor Dennis O'Neil. Birth of the demonpublished in 1993, chronicles the origin of Ra's al Ghul through evocative paintings by Norm Breyfogle, one of the greatest Batman illustrators of the late 80s and early 90s. Shamanoriginally printed in issues 1-5 of the Batman: Legends of the Dark Knight anthology series, ran from 1989 to 1990 and was drawn by Ed Hannigan. Pick up where First year left aside, the story delves into the training of Bruce Wayne and reveals that he was inspired by the legends of an ancient bat spirit revered by the native peoples of Alaska.
The Falling Man is the only tale on Pattinson's list that was also cited as inspiration by Nolan and screenwriter David S. Goyer for 2005 Batman begins. Written by O'Neil and drawn by Dick Giordano, the short story was published in 1989 as part of the The secret origins of the world's greatest superheroes Pocket trade. He revealed a simplified origin for Batman that encompassed many of the elements of batman beginsincluding a young Bruce Wayne falling into a cave full of bats and training under manhunter Henri Ducard.
KEEP READING: The Batman Star Discusses His Real-Life Bat Obsession
Source: Twitter, Geek's Lair
Fables Returns, Aquaman Goes Adults Only, Flashpoint Beyond Continues, and More in DC's May Solicitations
About the Author