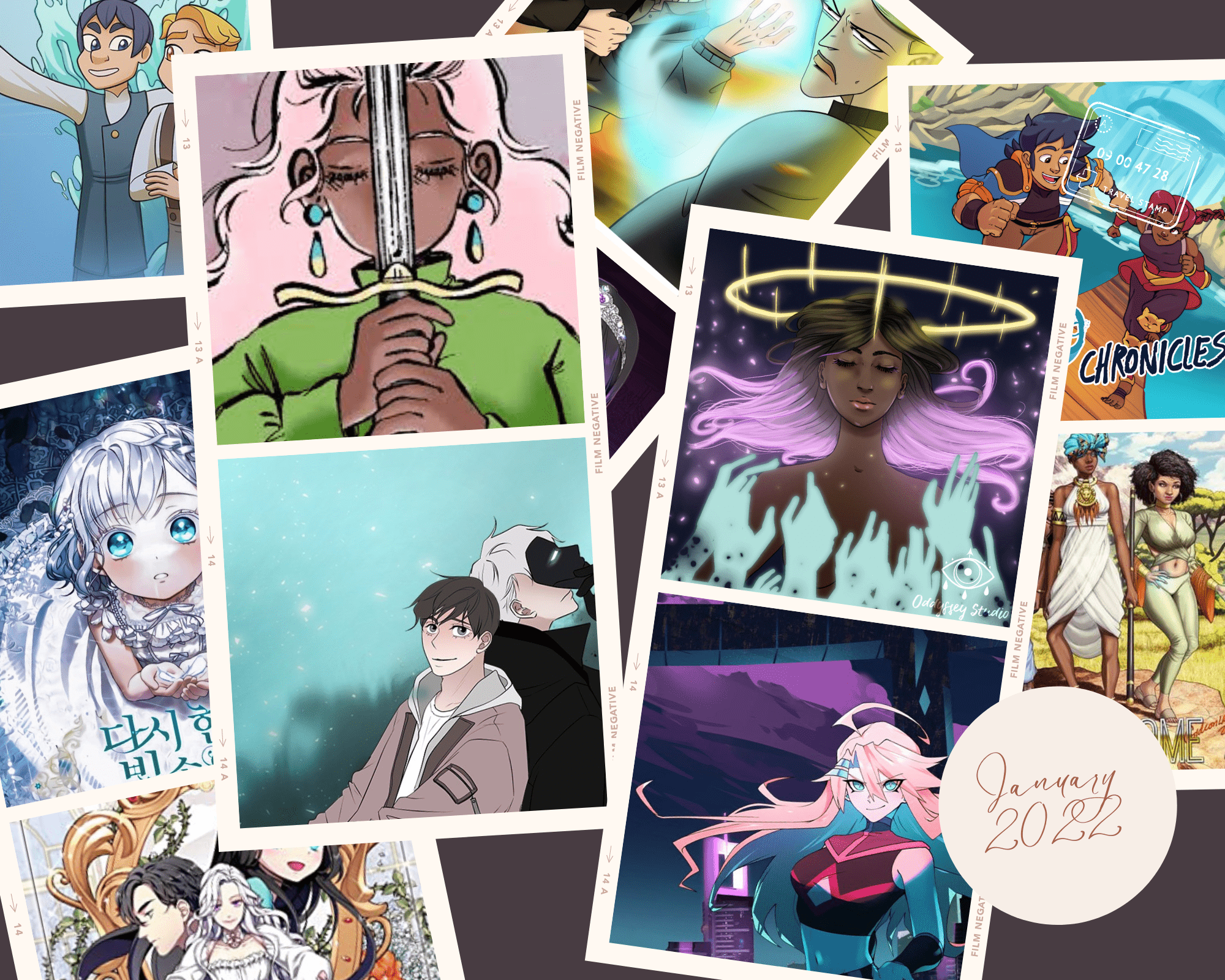 January 2022 Webcomic Roundup: Heroes and Villains
This month's roundup features webcomics that explore what it's like to play the role of a hero or a villain (or both). Characters who find themselves in new worlds or situations. The question of the true purpose of the chosen one. Resist or accept fate. The webcomics in this roundup come from WebToon and Tapas.*
The fourteen webcomics below include stories of second chances, defying fate, self-discovery, and unbreakable bonds. Characters accused of terrible crimes despite what really happened. The schemes and manipulation that lurk in the shadows undetected. Questioning decisions and questioning what is moral. So let's go !
lens flare tiger through shuttlecock (NEW!)
Welcome to the world where humans were either born as shapeshifters, enduring, or mere mortals. Angeline Varonis travels to Crytopia City for her freshman year of college.
I'm impressed with the world building and action sequences of this webcomic. The first three episodes unveil the structure and hierarchy of Crytopia. An exciting and fun webcomic for readers who enjoy superhero media and/or anime.
be my bad guy through mintibi (NEW!)
Mills has a high school and two super-agent dads to manage. He worries enough about his fathers getting hurt fighting criminals, but their nemesis, Shadowmaker, saves him one day.
I'm curious what will happen next here. The dynamic characterization and suspense (but especially the characters that make this story) are there.
DOUBLE THE SOUL through Dama Serry (NEW!)
Ektor comes from a family that possesses the ability to convert spiritual power into energy. They discover that they share their soul with another, their duo. Ektor and their duo can amplify their energy, making both souls powerful.
I admire the way the creator presents the characters and shows compassion in their internal conflict. I can't wait to see where the creator takes these two characters.
Cryptic Yume through Porche J.
Celeste, 19, works as a janitor, but she knows she deserves better. An encounter with an unusual fish leads him to discover a world populated by cryptids. From there, she learns of her destiny and joins her new friends.
An imaginative, otherworldly story about what it means to be a "chosen one".
Read more webcomics from black creators here.
your throne through SAT
Lady Medea had lost her throne and her engagement to Crown Prince Eros to Lady Psyche. Determined to take back what is rightfully hers, she and Psyche switch bodies unexpectedly. The two learn more about each other and the real reason Crown Prince Eros had chosen Psyche.
First of all, the evolving friendship between Medea and Psyche exceeds my expectations. Women realizing how their society and their lords deprive them of their free will. Realize the real culprit behind the manipulation and tearing apart of women's relationships (especially between social status/class). Excellent plot structure and constant tension as well.
thorn stone by Vicente Miranda (Completed) (The creator's website is not available)
Iris' determination to hone her powers and join the war against another nation has led to tough challenges and decisions. As the stakes rise, Iris risks becoming a traitor and losing her friends.
This webcomic fulfills my craving for complicated women's stories. Iris makes mistakes over time, comes up against conflicting desires, and suffers the consequences later on. Plus, I admire the intricate world building and character dynamics.
Memories of Amissi through potchimew
Amisi wakes up without her memories. She must navigate a medieval world, befriending a shapeshifter and a princess along the way.
A beautifully constructed webcomic about reclaiming the past and the self. I can't wait to see where the creator takes this story.
Also check out potchimew's other webcomic, Vampire girlfriends.
Read more webcomics from black creators here.
Canvas Chronicles through MVV works
Xeth Guardia, a reluctant mage, feels stuck at a crossroads. A group of masked villains, the Anticarra, settle on Xeth's homeland, the Isle of Chromia. He enlists the help of a monk named Jinx after learning that the Anticarra are searching for something called the Web.
A fun fantasy adventure with well-paced action sequences. It's also a story that tackles the hero's journey in an engaging way.
Ella paints amazing depictions of fantastical landscapes. But her motivation to paint dwindles after her boyfriend breaks up with her. A new friend convinces her to flee to Ireland, where she meets supernatural men and enters a world beyond her fantasies.
The contrast between what Ella imagines while painting and literally exploring another world is impressive. We get inside with Ella, and her character development is one to watch.
Read more webcomics from black creators here.
Caravan through Feather Mage (with co-author Muddauber)
Shana travels with her caretaker, Yun, to find a cure for her mysterious illness. A mysterious swordsman joins them, and the three encounter friends, foes, and foes along their journey.
The creator does a great job of creating a complex and fascinating world. I mostly find myself wanting even more of these characters after reading.
almost home through GIDLAND
Suzannah, B'onca and Tyris sail through their homeland in Africa to find the pieces of the great sword called Shyning. Putting the pieces together will save their world from darkness. However, the three aren't the only ones chasing the sword.
If you are looking for an African fantasy, this is it. I highly recommend this webcomic for its wonderful characters and promising premise.
Read more webcomics from black creators here.
In the light, once again by YUYA & TicaTica (NEW!) (The creators' sites are not available)
Accused of nearly murdering her younger sister, Princess Alisa is sentenced to death. After her execution, she is reborn as a princess of a neighboring kingdom. Apparently, this realm is also the enemy of the realm of his past life. She grows up suspicious of her new family. When she discovers her magical powers, she wonders if she could avenge the injustice of her previous life.
The protagonist's story arc is compelling and realistic. Of course, she doesn't trust her new family, however loving they are, because of what happened in her past life. I can't wait to see what happens later in his story arc.
The first three episodes are available for free reading on Tapas.
I got free access to In the light, once again in exchange for an honest review. All opinions are mine.
Lady Evony by REDICE STUDIO, Neida and Jaya (the creators' sites are not available)
Instead of being executed, Lady Evony, accused of murder, is released from prison after a transfer of power in her country. Under the tutelage of Grand Duke Schneider, she learned to take responsibility and recover her agency.
This webcomic surprises me. Grand Duke Schneider encourages her to find her own way as she helps other poor and abused women. Evony, beaten into submission while imprisoned for years, struggles to come to terms with her trauma.
The first four episodes are available for free reading on Tapas.
I got free access to Lady Evony in exchange for an honest review. All opinions are mine.
stepmother not sewn by Iru & Mo9Rang (the creators' sites are not available)
A children's clothing designer from South Korea dies from overwork and is reincarnated in the body of Snow White's stepmother (named Blanche in this webcomic) named Abigail. Seeing how the king neglects Blanche, Abigail decides to treat her with love and affection.
The relationship between the protagonist and Blanche is so endearing. And the King, who starts off as a cold hearted and foolish fool, becomes more dimensional as the story progresses. An intriguing twist on the story of Snow White.
The first three episodes are available for free reading on Tapas.
Check out more wicked webtoons here.
I got free access to stepmother not sewn in exchange for an honest review. All opinions are mine.
Webcomics I reviewed this month:
First impressions: Atmosphere control! by Ucheomaaa
First impressions: seeds of doubt by Tani Andrews
Webcomic reviews by Burkely Hermann (December 2021 – January 2022):
The Pirate and the Princess by Sapphire
She's a keeper by Darunni Comics
Babe! Series by Darunni Comics
Chromatic key by Brandon Dumas
sugar moon by Zemoore
–
Is there a webcomic you'd like to recommend (it's not necessarily the topic of this roundup)? Please feel free to comment below. I would love to hear from you!
–
For more great webcomic recommendations, check out our Wednesday Webcomics Archive! Check out previous roundups here.
–
* My mention of all platforms on this post is unsponsored.
Author:
Brahidaliz Martinez
Brahidaliz (pronounced Bra-da-leez) is a 2019 graduate of American University's MFA in Creative Writing program. Their cross-genre chapbook, Coquí's Song, is forthcoming (2023) with Mason Jar Press.
Pronouns: he/they
Location: DC Metro Area
Twitter: @brahidaliz
–
Read our before commenting.
Do not copy our content in its entirety to other websites. Links are encouraged.
Copyright © The Geekiaire
Related