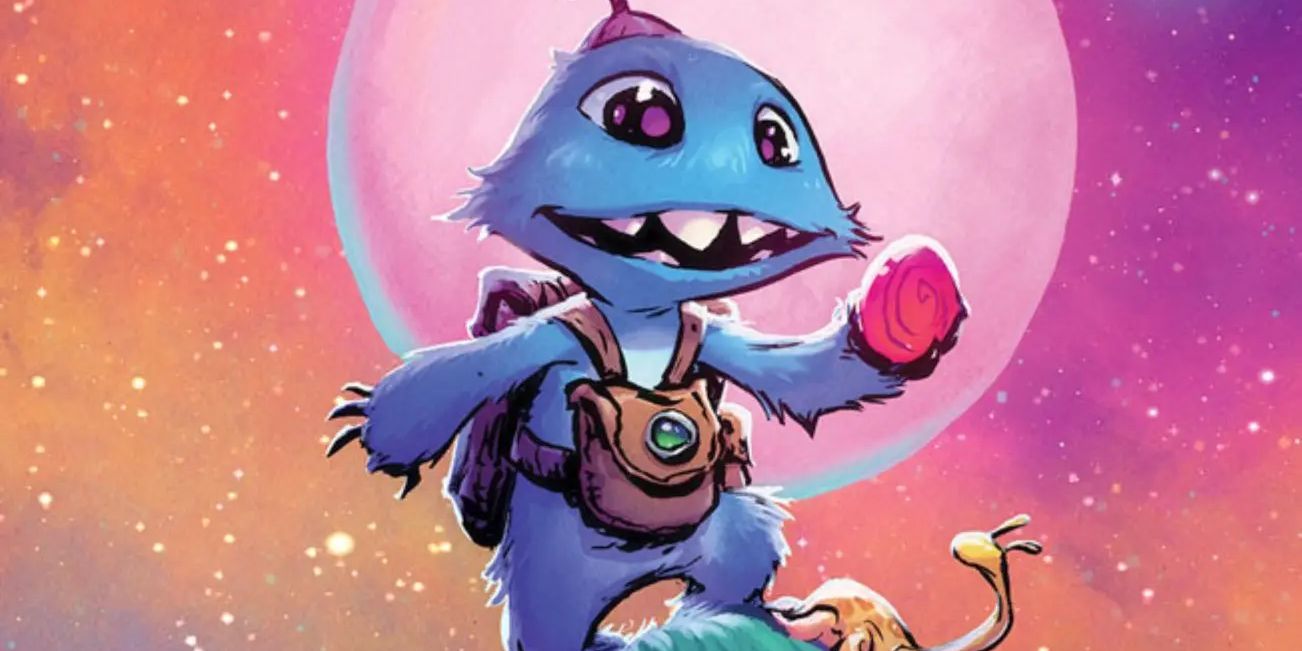 Image Comic's presents a fresh take on adventure-type stories
This article contains spoilers for Twig #1 for sale by Image Comics
Thanks to popular forms of entertainment, such as movies and tabletop RPGs like Dungeons and Dragons, fans can't get enough of the fantasy adventure genre and its stories set in fantasy realms. Image Comics brings these elements to life in a new miniseries titled Twig (written by Skottie Young with art by Kyle Strahm).
However, the story's main character, a blue sloth-like creature named Twig, reveals that he doesn't want to be an adventurer. He only took the job placement after the death of his father. His real passion is making food. Twig was training to be a chef before becoming an investment. He explains to a miner that his father never took on an apprentice, so there was no one left to fill his shoes except him.
RELATED: REVIEW: Image Comics' Metal Society #1
Everyone is counting on him, much to his dismay. There aren't many contextual clues as to what a placement is, only how important it is to this kingdom of magical creatures. In the mines of an ancient mountain, Twig is given a task: to bring a red crystal to the Pathsayer so he can figure out what it is. From there, the Pathsayer will give him a quest. However, things take an unexpected turn at the end, leaving readers wondering what Twig is up to.
The journey is long, with panels depicting beautiful works of art set in this fantasy world. Mysterious stone structures, forests, and vast landscapes add more depth to the creative team's world-building. The decor is reminiscent of 1982's The Dark Crystal, as well as other beloved 1980s films such as The Neverending Story and Jim Henson's Labyrinth.
RELATED: REVIEW: Image Comics' Bone Orchard: Passageway Graphic Novel
The cast of characters is as stunning as its setting. Twig accompanies her journey with a yellow slug-like creature called Splat. With every turn, readers encounter talking mountains, salamander-like miners, and glowing turtles. Skottie Young tells the story with whimsy and charm as Kyle Strahm fills the pages with beautiful art one might find in a beloved children's book.
Together, they take the trope of the reluctant hero and turn it on its head. Despite her alternative ambitions, Twig assumes her role with hope and determination. Although her father doesn't have an apprentice, Twig knows what the job entails and doesn't want to let anyone down. No one is forcing Twig to be the hero, but he chooses the path anyway because it's the right thing to do.
RELATED: Image Comics Puts a New Spin on Vampires
Between the colorful characters, quirky art, and intriguing plot, this comic is enjoyable for all ages. Twig is a character concept with enough depth and world-building to explore in future storylines or even a sequel.
It will be thrilling to watch this blue furry creature not only discover more about himself, but also save this magical world. The miniseries is on sale now from Image Comics and will run for five issues.
Step by Bloody Step put a dark spin on Game of Thrones' most heartbreaking death
Read more
About the Author