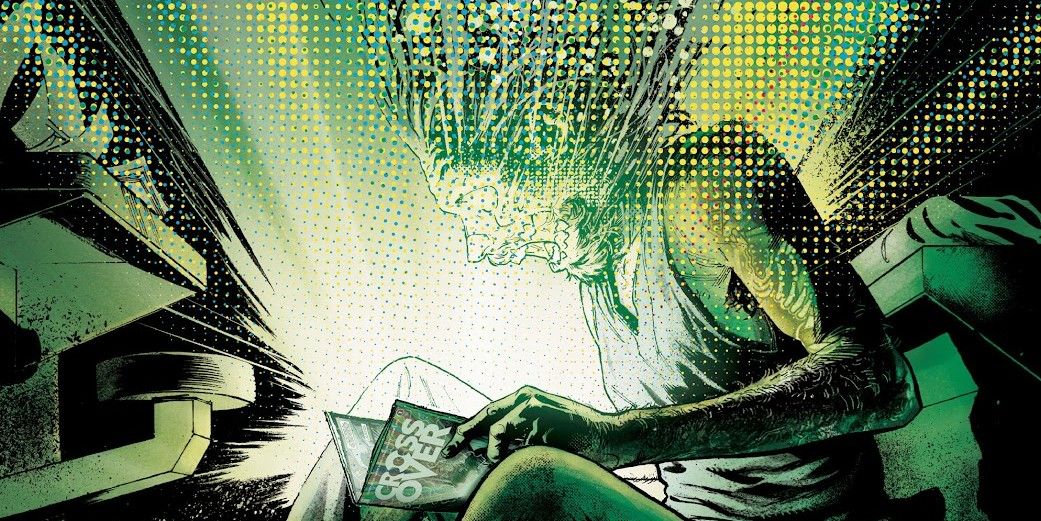 Image Comics' Crossover #12 Has Negan Fighting His Creator
Image Comics' Crossover #12 sees Negan take on Kirkman as Cates attempts to regain control in this gripping meta-episode.
Imagine if all the beloved comic book characters came to life one day, breaking the lines between fiction and reality. When writer Donny Cates takes a break from his divine escapades for Marvel Comics, he teams up with artist Geoff Shaw to shine a light on more grand ideas. crossing, published by Image Comics, is a complex, metafictional tale where Cates imagines himself and his fellow writers as great architects of realities, borrowing characters from a number of franchises. The previous issue finally revealed the killer who murdered comic book writers out of spite as Negan from The Walking Dead. With such a shocking revelation, things seem to be heating up in crossing #12.
crossing #12, written by Donny Cates and Robert Kirkman with art by Geoff Shaw, Phil Hester, Klaus Janson, and Dee Cunniffe, unleashes one man's murderous revenge on a world. Eight months ago, Negan visited the lavish mansion of the creator of The Walking Dead and the bane of his existence, Robert Kirkman. The luxury and pop culture memorabilia on display has Negan angry at the mistreatment of comic book characters for fun. These days, Negan isn't doing any good as usual and the only person who can stop him now is the one who started all of this in the first place.
RELATED: Image Comics' King Spawn #7 Comic Review
Writers often throw conflict and misery into the narrative to keep readers engaged. crossing #12 is currently going through this same dramatic phase. As the drama culminates, the book continually criticizes the sacrifices the characters must make to move the story forward. Robert Kirkman writes the first pages of the book before handing it over to Donny Cates, engaging in a meta-analysis of his own work. In a way, it serves as a deserved letter of apology to his creations, which faced a litany of trials and tribulations, while also serving as a form of catharsis. The rest of the story unfolds beautifully, with Cates finding her moment at the forefront of the action.
Phil Hester and Klaus Janson's collaborative artwork brings out the pathos in Kirkman's writing. Their minimalist art style envelops Kirkman's world in materialistic treats and creates a suffocating, claustrophobic atmosphere, symbolizing the scribe's spiral as he takes advantage of his characters' misery. Even gore finds its place in the work. Artist Geoff Shaw portrays the current narrative with intense vigor and perfectly captures the likeness of his co-creator. The entire artwork is illuminated by Dee Cunniffe's colors, which sprinkle the artwork with eye-catching shades. As the story reaches its climax, the colors become extremely brighter, ushering in the story's turning point.
RELATED: Image Comic's #1 Supermassive Comic Review
crossing #12 is a character-driven tale that takes Negan on a personal quest as he tries to break free from the shackles of his past. Meanwhile, none other than Donny Cates himself guides the heroes as they seek to make a comeback. Although it's a recurring joke on the show, Cates' admission of his resemblance to Alan Moore and his God complex really brings the meta-commentary full circle. The story suggests another writer may be pulling the strings from behind. As interesting as it sounds, at this point, that novelty has already worn off in this already overloaded tale. crossing #12 ends with the main cast's jubilant entrance, breathing new life into the crossover.
KEEP READING: EXCLUSIVE: The Walking Dead: Clementine Finally Responds to How the Amish Handled the Zombie Apocalypse
Star Wars Finally Reveals the REAL Reason Han Fired First
About the Author