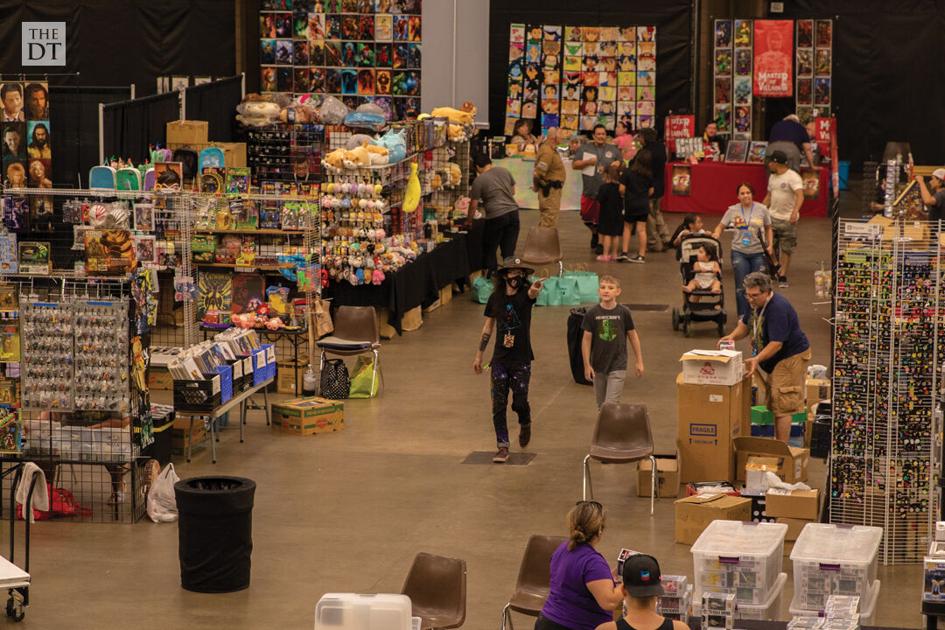 Hub City Comic Con Begins at Civic Center | life
The Hub City Comic convention kicked off on September 3 at the Lubbock Memorial Civic Center with vendors, a cosplay contest, wrestling matches, and acrobats to watch.
Myrisa Rutter, the convention's public relations coordinator, said the convention is packed with pop culture, comics, anime, Marvel, "Star Wars" and all that is cheesy.
"We will have a cosplay contest on Saturday at 6 pm," said Rutter. "It's always a lot of fun for people to show off their hard work, especially since they've had two years to work on it at this point."
Rampage Wrestling will also be performing, she said. Wrestlers will have matches throughout the show starting on Saturday. The event will also feature an aerial atmosphere where artists will perform acrobatics.
Rutter said their primary audience is 18 to 35, but the convention has attractions for all ages and the college age group is primarily drawn to the merchandise offered by vendors.
"With the students, I found that the anime was making a big comeback and normalizing a bit more," Rutter said. "I think it's because of the pandemic and people have been watching a lot. "
Rutter said the convention was happy to be back in Lubbock after a two-year hiatus due to COVID-19.
Along with the convention, Monster Lair Comics owner Robert Durband said last year has been tough with the convention being canceled.
"A lot of what we do is not just our store and online sales, but comic book conventions as well," Durband said. "Conventions tend to get the most information out because you find out which flagship books are and which books are increasing in value. It really gives us more information to bring back to the store.
Rutter said Hub City Comic Con has a pretty good supplier system, but people do join in on the convention sometimes through social media. Rutter said social media is the convention's preferred advertising medium.
Rutter said that in the following years, the convention hopes to bring back interns, because that's how she started working for Hub City Comic Con.
"I would love for the interns from Texas Tech to come back," said Rutter. "I will be here for three years in November and graduated in technology in December 2018."
Kevin Chavarin, a third-year computer science student at Slaton, said he heard about becoming a vendor through social media.
"My friends and I are actually selling stuff here this year," Chavarin said. "We have come to other conventions in the past because we live nearby, but this time we decided to sell our own art."
Chavarin and his friends said they were making things they would like and wanted to share with others. They mainly sell digital designs which are affixed to stickers and buttons.
Rutter said this event started Friday night for VIP pass holders. A Saturday pass costs $ 20, Sunday $ 15, and a two-day pass costs $ 35. Tickets are available at the door.
"I am very excited to meet new people again," said Chavarin. "I haven't attended any of these conventions for three years due to COVID-19, and I'm delighted our friends are coming to see us at the convention."