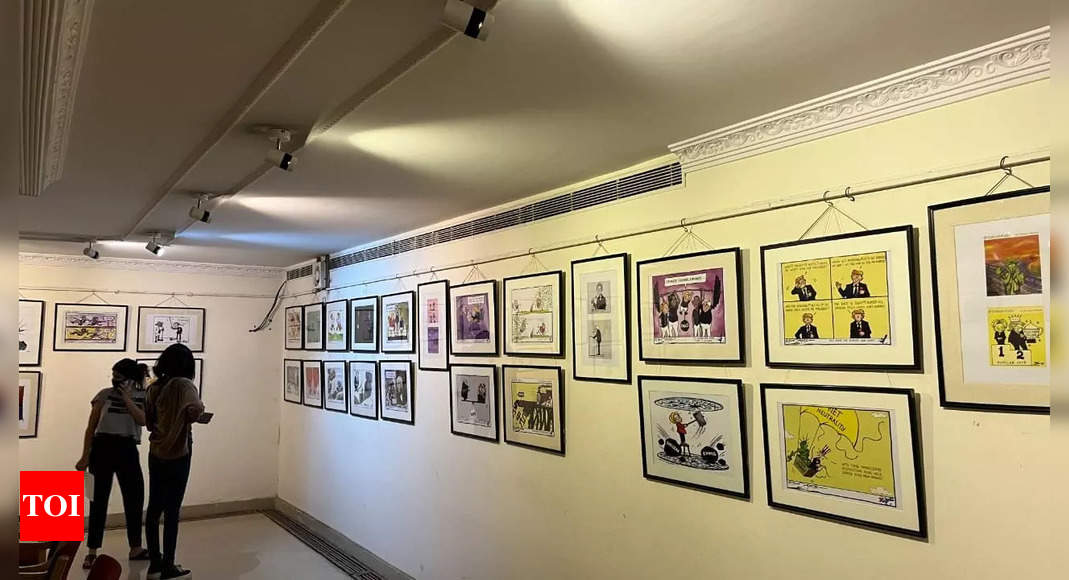 "From Bill to Biden": the story of America through cartoons
America's Story – "From Bill to Biden" through cartoons has been on display in Bangalore since February 1. Featuring a New York-based cartoonist
Shreyas Navarre
's series, the exhibition presented by the
Indian Institute of Cartoonists
collects 101 cartoons and caricatures drawn from 1998 to 2022 covering five US presidents. As the exhibit wraps up Saturday and is set to premiere in the United States later this year, Navare says amid the ongoing pandemic, creative expression is like the much-needed ray of hope.
(Excerpts from an interaction)
Q. We are in the midst of a raging pandemic and you are currently based in New York. Why did you choose to bring this exhibition to India at that time?
NS
: The real fuel that keeps the human race going through the most difficult times is hope. Creativity and positivity make it easier for us to survive such times and I hope my exhibition will also bring joy to visitors. While this exhibit showcases my vision of American politics, plans are also underway to host this exhibit in the United States later this year. The Indian Institute of Cartoonists is doing a great job in this pandemic to increase the reach of the exhibition by posting selected cartoons from the exhibition on its social media handles.
Q. While everyone looks at art and illustrations and even political messages through cartoons in their own way. Can you share what led you to create this series?
NS: Given the presidential form of government, American politics tends to revolve heavily around personalities. Most cartoons about American politics tend to feature the president (or his rival!). Uncle Sam or the Statue of Liberty also make an occasional appearance. I was amused to find that every US president of the past quarter century except Trump had either their first or last name beginning with a "b": Bill, Bush, Barack, and Biden. In the spirit of alliteration, I decided to title the exhibition "America in Cartoons: From Bill to Biden". Due to the pandemic, this is the first exhibition I have not been able to attend in person and I miss the opportunity to engage directly with visitors.
Q: Can you name some stories that inspired some of the works on display?
NS: I was able to attend both the Democrat and Republican national conventions, both in 2012 and 2016. Sitting in the media stands at those conventions was a lot of fun drawing the presidential candidates live and also to interact with the delegates who came from all US states. Much like our elections back home, paying attention to crowd reaction helped me understand elections better than what was broadcast on TV news. Beyond politics, I sketched a series "Postcards from a Cartoonist from Washington DC" which was included in this exhibition.
Q: You mentioned that when you moved to the United States, you realized how much the similarities bind the human race together. Can you detail this aspect?
NS:
Although our culture, traditions and customs are different, the fundamental human values ​​and emotions remain the same for all of humanity. In politics, the endless struggle for the chair and voters' aspirations for a better life remain the same everywhere you go. This makes it much easier for a cartoonist familiar with world issues to comment on international affairs. First-hand experiences to learn about cultural differences help a lot, but ultimately, the heart of cartoons revolves a lot around the principles of our common humanity.