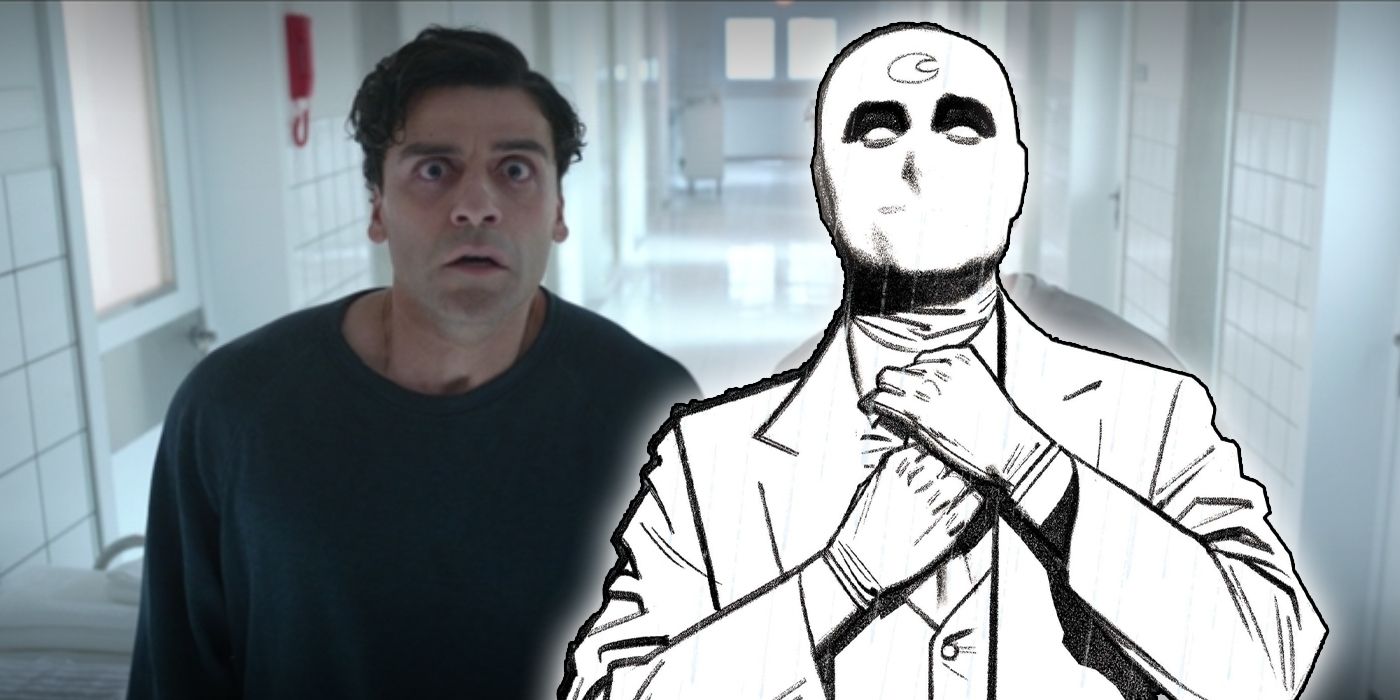 Episode 4's Most Touching Moment Was Inspired by the Comics
The following contains spoilers for Moon Knight, now streaming on Disney+.A heartfelt moment in the fourth episode of Moon Knight was inspired by a cover page in one of the Marvel hero comics.
In the episode "The Tomb", after Marc Spector (Oscar Isaac) is shot by Arthur Harrow (Ethan Hawke), he finds himself in a mental hospital with some familiar faces, including Harrow. While trying to escape Harrow, Marc discovers his alternate self, Steven Grant, imprisoned in a sarcophagus. After freeing Steven, the two share a hug excitedly that they have found each other. Speaking to Marvel, director Aaron Moorhead revealed that this moment stems from writer Jeff Lemire's time with the character and Marvel Comics.
RELATED: Moon Knight's Gods Are More Antagonists Than Benevolent Beings
"It's actually inspired by the end of Jeff Lemire's series Moon Knight", Moorhead said. "There's this wonderful moment where he hugs. We were so in love with the idea of ​​someone embracing another part of themselves and saying comforting words that we really, really wanted to have that hug moment in one of our episodes and that moment was the right one. "
At Lemire's Moon Knight #9 from 2016, which is illustrated by artists Wilfredo Torres, Francesco Francavilla, James Stokoe and Greg Smallwood, Marc says goodbye to each of his alter egos. Although he has to fight Jake Lockley, he shares a touching conversation with Steven about what will happen if he disappears. After Steven makes Marc promise he'll "find a way to be happy," a cover page shows the two saying goodbye with a hug.
RELATED: LEGO Fan Designs Moon Knight Sets Worthy of Khonshu
There are differences between the Marvel Cinematic Universe series and Lemire's run, given that it's unclear if Marc has any other personalities beyond Steven at the time of writing. Another sarcophagus is present in the psychiatric hospital, though viewers won't be able to see who is inside. The moment teases a third identity for the second time, given that Marc and Steven passed out near the start of the episode "The Friendly Type", and woke up to find they had killed a group of Harrow supporters. .
There are still two episodes left in this season of Moon Knight, which would remain as a limited series instead of returning for additional seasons. The same week as the show's final release on Disney+, Marvel will launch its next live-action project in theaters: Doctor Strange in the Multiverse of Madness. The film will be released in theaters on May 6, 2022.
The first four episodes of Moon Knight are now streaming on Disney+, with new episodes released weekly on Wednesdays.
KEEP READING: Moon Knight Boss Was Obsessed With Getting THIS Character On The Series
Source: Marvel
Thor: Love and Thunder gives a Guardian of the Galaxy a major upgrade
Read more
About the Author