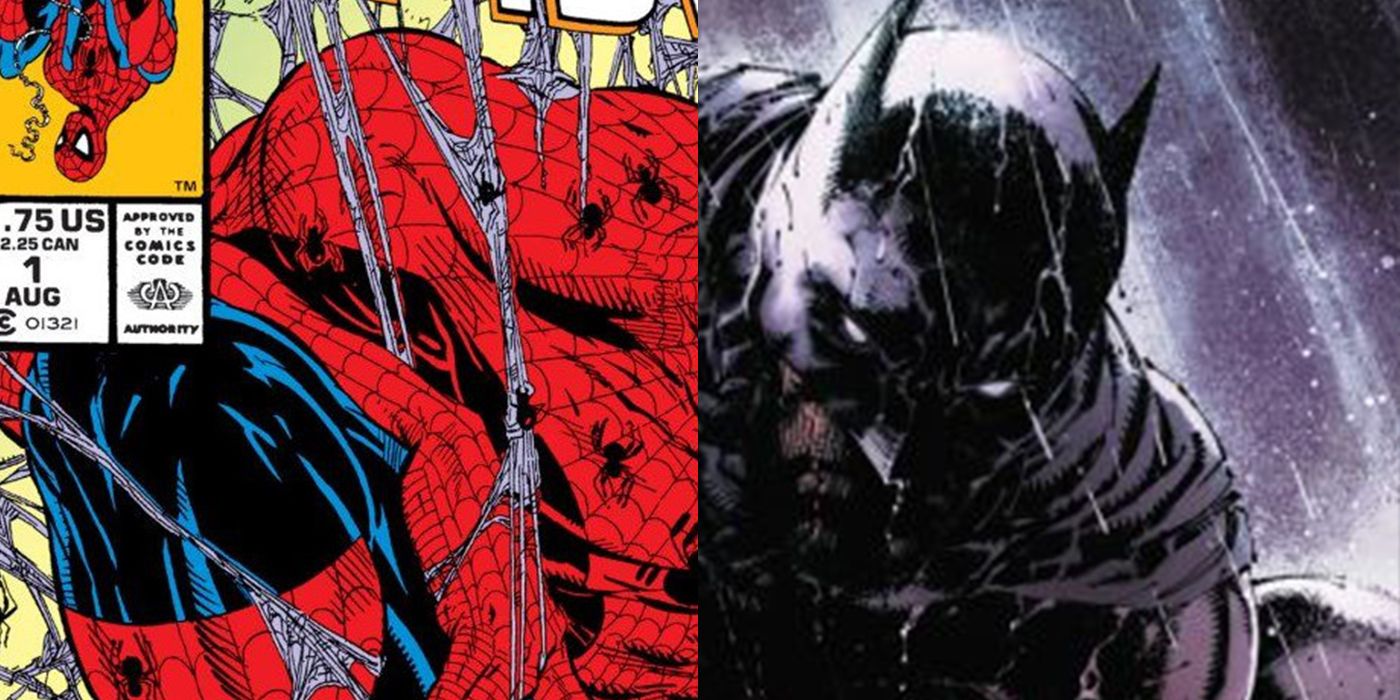 DC pays rare Marvel tribute with new Batman cover
DC Comics made a rare reference to its rival publisher, as an upcoming issue of Batman features a tribute to Todd McFarlane's Spider-Man.
DC Comics is set to pay homage to a classic Marvel Comics cover, in an upcoming issue of Batman is inspired by one of Todd McFarlane's most iconic Spider Man images. It is relatively rare these days to see rival publishers paying homage to each other's most notable works of art, but a variation for Batman # 118 tributes Spider Man # 1, with a few more details connecting to the two covers.
Todd McFarlane's races on The Amazing Spider-Man and Spider-Man are considered one of the most influential hero arcs of all time. Whether it's his incredible action sequences, the introduction of Spider-Man's "spaghetti-webbing" or his help in creating the anti-hero Venom, McFarlane's time with the web-slinger was astonishingly successful. After a draw of 30 numbers The incredible spider-man, McFarlane received his Spider Man title to write and draw. The first issue of the 'Torment' arc featured an iconic Spider-Man blanket posing on a spider-filled strap. The cover had several variations and has since been graced and the cover has been slipped several times 30 years after its debut – and now DC Comics is making its own take on it.
Related: Robin Takes Down Rivals As Lazarus' Deadly Tournament Finally Begins
Artist Victor Bogdanovic shared his incentive variant cover for Batman # 118 and expressed his excitement that he could pay tribute to his artistic hero, Todd McFarlane. Admitting that he couldn't "tell you how many hours I spent drooling over his legendary Spidey cover as a kid," Bogdanovic said channeling McFarlane for the DC Comics cover was "the tribute. the coolest I have ever drawn ". Check out the upcoming Batman # 118 cover (1:25 variant) and the image of McFarlane that inspired it.
What really makes the blanket's homage soft is the level of detail that is put into it. The Batman Cover # 118 not only features the Dark Knight doing the iconic Spider-Man pose, but also features similarly placed trade dress – including the same font for the main logo. Not only that, but DC Comics decided to go back and use their classic bullet logo for the problem, making it feel like it's even more of the '90s in the best possible way. Bogdanovic's signature sits above a note that says "after Todd McFarlane," crediting the original image of the legendary creator as inspiration in the right-hand corner.
Overall, Bogdanovic absolutely nailed the cover. McFarlane Spider Man # 1 has been honored several times over the years, with some covers being better than others. Thanks to the matching of some of the key details of the original art and trade dress and piping from the '90s, the upcoming cover for Batman # 118 is one of the best tributes to date. It will be in high demand by comic book collectors who wish to add homage to McFarlane to their collections. The 1:25 Spider Man # 1 The Tribute variant arrives in comic book stores on December 7, 2021.
Next: '90s Iron Man Was So Unpopular He Was Banned From Marvel Vs. CC
Source: @VikBogdanovic
Spider-Man gets too scary new costume for the MCU
About the Author