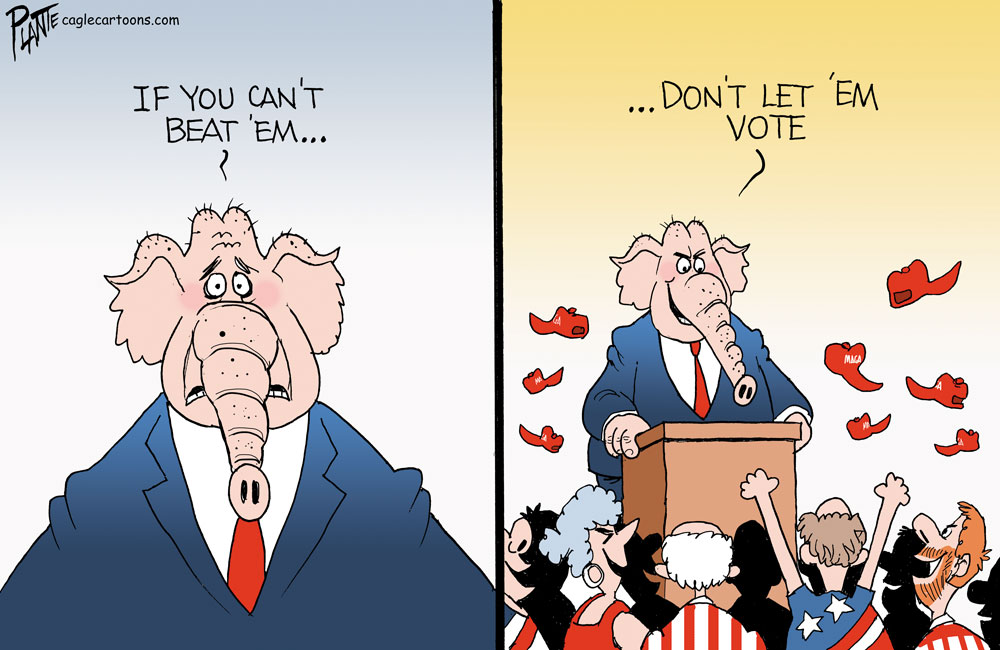 Daily cartoon and live briefing: Thursday, July 15, 2021
Today in the eyes of the editorial staff: The NAACP and the African American Cultural Society are hosting a Palm Coast Mayoral Candidates Forum, in which all six candidates will participate. It's 6 p.m. at the George Washington Carver Community Center, 201 E Drain Street, Bunnell. The forum will be broadcast via Zoom. The event is open to the public. Flagler Beach City Commission organizes a joint workshop with its town planning council at 5:30 p.m. at the town hall to hear a first draft presentation of the revision of the town's land use planning code, a matter of particular interest to builders and residents interested in growth issues. In Circuit Court, a hearing is scheduled in the late Shauntiana Stafford wrongful death case against Flagler County schools. Stafford's estate continues. Stafford, 17, committed suicide in January 2019. Her mother is suing the school district for wrongful death, claiming her daughter was bullied and the district failed to protect her. The district denies the accusation. Rembrandt at 415: It's the birthday of the great painter. Take a break and go Dutch for lunch. Tour de France: Stage 18 is yet another mountain trek, 130 km from Pau, birthplace of the great Henri IV ("Paris is worth a mass"), to Luz Ardiden, a snow-covered resort that was once one of the Victor Hugo's places of visit.
Vaccination: Appointments for the Pfizer-only clinic at the Department of Health are preferred, but walk-in visits will be accepted. Please call 386-437-7350 ext. 0 for planning or questions. June 25, 2021. Eighteen pharmacies in Flagler County offer COVID-19 vaccines, and 12 of them offer Pfizer, which is approved for people 12 years of age and older. The Ministry of Health will provide COVID-19 test Friday July 2 between 2:30 p.m. and 3:30 p.m. at its main office, 301 Dr. Carter Blvd. in Bunnell. For more information on COVID-19 vaccination and testing efforts, please visit https://floridahealthcovid19.gov/.
The Live Calendar is a collection of local and regional political, civic and cultural events. You can enter your own calendar events directly on the site as you want them to appear (pending approval of course). To include your event in the live calendar, please complete this form.
For the full schedule, go here.
"I believe that one of the few things that stands between us and an accelerated descent into darkness is the set of values ​​inherited from the Enlightenment of the 18th century. This is not a fashionable point of view at the moment, where the Enlightenment can be dismissed as something superficial and intellectually naive to a conspiracy of dead white men in wigs to provide the intellectual foundation for Western imperialism. . It may not be all of this, but it is also the sole basis of all aspirations to build societies worthy of all human beings to live anywhere on this Earth, and for the assertion and defense of their human rights as persons.
–Eric Hobsbawm, "Barbarism: a User's Guide," from "On History" (1998).
Live cartoons and briefings archives.