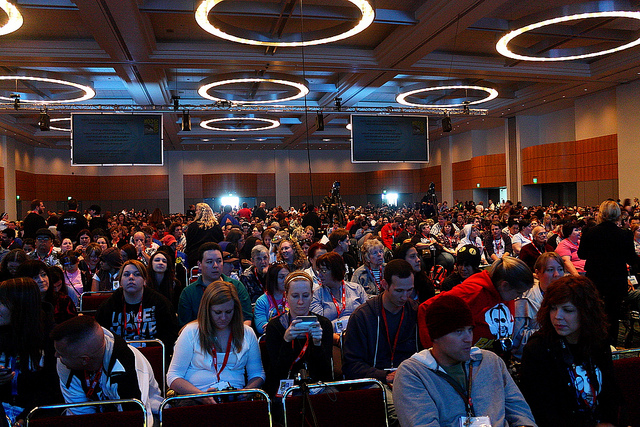 Comic-Con Special Edition panel schedule released
With just three weeks left to kick off the Comic-Con Special Edition in San Diego, Comic-Con International unveiled the lineup today. And for anyone who was confused that this event was San Diego Comic-Con – they don't need to look any further than the panel schedule.
Compared to this mega-event (or even a smaller sister show WonderCon), the lineup is very light. The largest room used for the convention, which will also see events held at the Marriott Marquis San Diego Marina, is Room 6DE with a capacity of 1,000 (this is also the only room that will see a small break between panels) . The only exception to this is that Ballroom 20, which seats 4,250, will be used for the masquerade on Saturday night.
There are a lot of new room layouts and CCI answered most of the questions on their page, which is definitely worth reading.
The programming schedule itself is very heavily focused on cosplay and games. For those hoping for a Hollywood presence, the biggest panel in this regard is likely NBC'a La Brea on Saturday at 2:45 p.m. in room 6DE – however, it will be a virtual discussion.
In person you will find Janet Varney and Dante Basco from Avatar: The Last Airbender as they record a new episode of their podcast, live, Saturday at 12:15 p.m. in room 6DE. There is also a tribute to the great Down with the myths'Grant Imahara Sunday at 1 p.m. in 6DE, as well as a spotlight on Star Trek: The Next Generation's Brent Spiner as he discusses his new book Friday at 7 p.m. at 6DE.
Fans of The toys that made us and The films that made us will want to consult the Friday 3:45 p.m. panel in room 6DE for a discussion with Nacelle Company. And anyone who loved Rod Sterling's classic 1970s horror series Night gallery will feast on the Friday night panel, which features the artist who created the original Night gallery paintings, an author and "surprise guests" for a panel at 7:30 p.m. in room 8.
For a combined film / comic book experience, you can check out Lumpia with revenge Fridays at 6:30 p.m. in room 26AB, all on a seven-year journey, from independent film to independent comics (and if you visit this blog often, you will likely recognize artist Patrick Ballesteros among the list of participants).
Continuing in the world of comics, artist Bill Sienkiewicz will be on hand to unveil news on the universe of ongoing alliances in a story by Stan Lee and Luke Lieberman, Saturday at 1:30 p.m. in room 6DE. Legendary comic book creator, artist and writer Jim Starlin will share news of his latest graphic novel on 24ABC at 2:30 p.m. Sunday. Fans of web comics will be treated to a Vincent D'Onofrio bonus on a Saturday at 5:30 p.m. at 24ABC.
For those looking for a deeper meaning in their comics, we are excited about "How to Apply the X-Men and Other References: Learning and Meeting the Needs of Neurodiverse, BIPOC, LGBTQIA and Others" in Room 2 at 1pm on Sundays. .
For gaming fans, we're excited for the Winchester Mystery House panel on Saturday at 1:30 p.m. in 5AB. The company is best known for its escape room designs, but has an upcoming game online. And on the toy side, JAKKS Pacific's Friday 2pm panel in Room 7AB should offer a fun look at some new tricks.
Comic-Con itself has a fandom around it (hi, hello, we probably wouldn't exist if it didn't!) – and there's a lot to be found both on the story and the future of the convention. First, look ahead on Saturday at 2 p.m. in Room 29AB with Rod Roddenberry, CCI Programming Director Eddie Ibraheim, and more as they look to both Roddenberry and the Comic Museum- Con. Soon after, you'll be able to join both part of Comic-Con's founding generation and Comic-Con begins podcast producer for a look back at over 50 years of con, Saturday at 5 p.m. at 29AB.
So there are lots of fun and smaller signs – if you know where to look. We recommend that you consult the programming schedule for yourself.