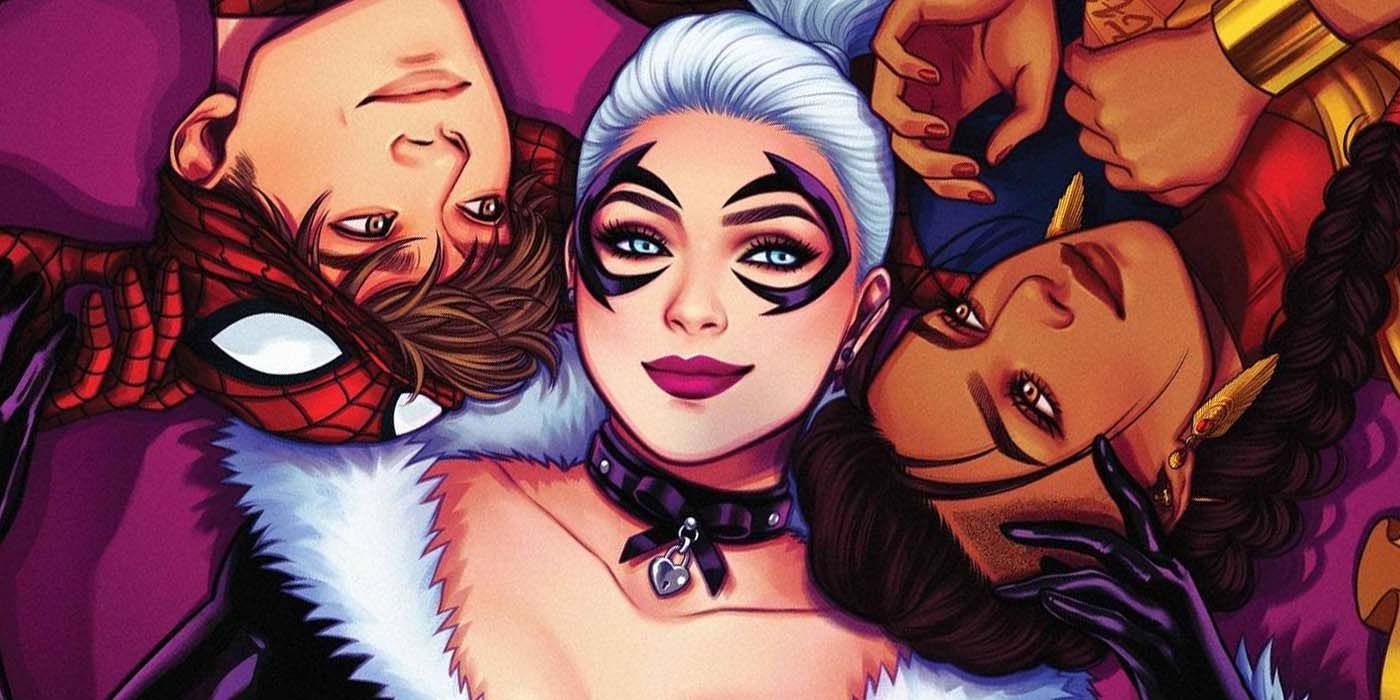 Black Cat reunites with his two great loves in a stunning Pride cover
Black Cat is reunited with her two most famous lovers, as the heroine receives a new Marvel Pride cover from superstar artist Jen Bartel.
Warning! Spoiler for Marvel Voices: Pride #1 by Marvel Comics
Over the years, Marvel Black cat stole the hearts of in-universe characters and readers alike, and in a stunning new comic book cover from superstar artist Jen Bartel, the anti-hero sits alongside his greatest loves. In art from Marvel Comics' upcoming Pride anthology, Felicia Hardy reclines next to her former flame, Spider-Man, and her newest partner, Odessa Drake. The blanket brings Black Cat and her lovers to life with exquisite detail.
Felicia Hardy is one of the comic book genre's most infamous anti-heroes, as her love of heists and theft has brought her into conflict with some of the Marvel Universe's greatest heroes, namely Spider- Man. Black Cat developed a recurring romance with the web-slinger, as she served as Spider-Man's third most famous love interest, behind Mary Jane Watson and Gwen Stacy. In her recent Jed MacKay and CF Villa ongoing series, Black Cat was confirmed to be bisexual, sharing a romance with Odessa Drake, one of the leaders of the infamous Thieves Guild.
Related: Marvel's New Sorcerer Supreme Destroys Doctor Strange's Legacy
In a stunning new cover for the next Marvel Voices: Pride #1 by Marvel Comics, Black Cat sits between his two love interests. In artist Jen Bartel's gorgeous cover, Felicia Hardy flashes a smile on her face, as an unmasked Peter Parker lies beside her, holding her hand and staring at her beauty, while Odessa Drake shares also a look at the anti-hero as she rests lovingly on his shoulder. As usual with Bartel's art, the details are impeccable and the fashion is fantastic. All three characters are beautiful. Check out Bartel's coverage below.
The upcoming Marvel Comics anthology will feature 12 short stories featuring LGBTQ+ heroes and villains. Included are an Iceman story by Anthony Oliveira, Javier Garron and David Curiel, a Daken and Somnus story by Steve Orlando, Claudia Aguirre and Luciano Vecchio, a Mystique and Destiny tale by Tini Howard, Samantha Dodge and Brittany Peer, and a new History of Black Cat and Jessie Drake by Leah Williams, Jan Bazaldua and Erick Arciniega. The anthology will also feature fan-favorite couple Nico Minoru and Karolina Dean from runaways, in a story by Mariko Tamaki, Kris Anka Tamra Bonvillain.
Readers can pick up Jen Bartel's stunning variant cover featuring Black catSpider-Man and Odessa Drake when Marvel Voices: Pride #1 from Marvel Comics hits comic book stores and online retailers on June 15, 2022.
Next: Blade's Strongest Form Gives Him The Powers Of Marvel's Darkest Heroes
Daredevil's Disturbing Love Life Is Finally Alluded To By Marvel Writer
About the Author