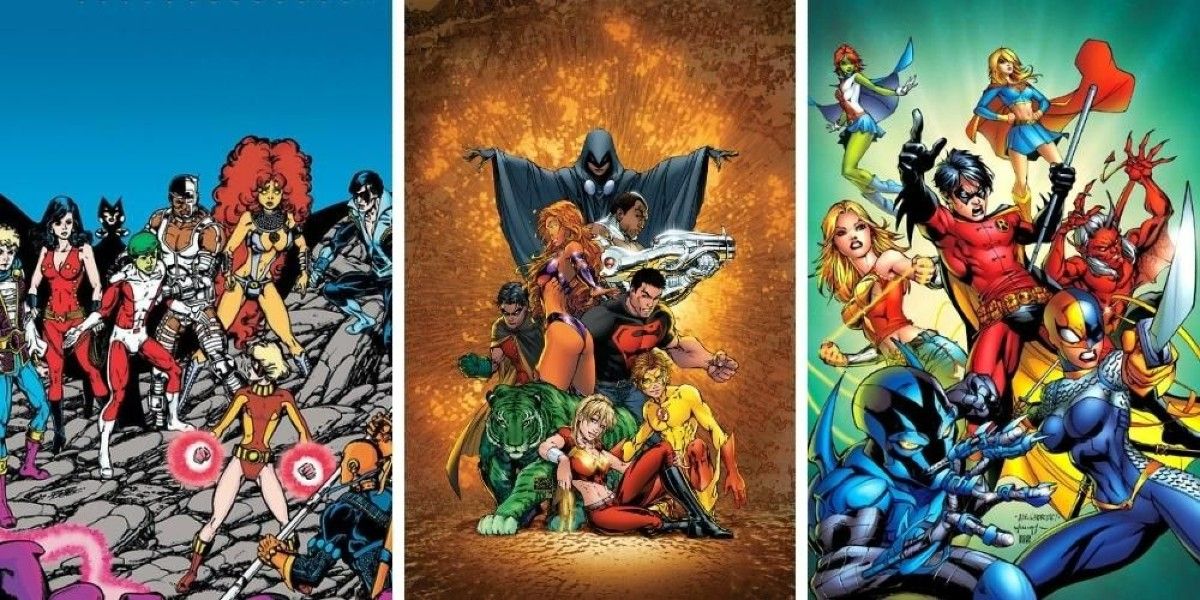 10 Teen Titans Comics So Cool You Can't Stop Reading Them
Comic book readers have long considered the Teen Titans to be one of DC's greatest superhero teams, second only to the Justice League. The group of young heroes have gained popularity with the general public due to the success of two beloved animated television shows, two animated films in the DC Animated Film Universe and a live-action adaptation. on HBO Max.
RELATED: 10 Strongest Characters The Teen Titans Have Beaten In The Comics
However, none of this would have been possible without the success of various Titans comics over the years. From a demonic patriarch with seemingly omnipotent power to a superpowered assassin bent on revenge, this team has no shortage of iconic and memorable showdowns for fans to enjoy.
ten

'The Rise Of Aqualad' Details Jackson Hyde's Origin
stretching Teen Titans (Vol 2) #6-7 and #9-11 – written by Benjamin Percy with art by Khoi Pham, Wade Von Grawbadger, Phil Hester, Jim Charalampidis, and Corey Breen, "The Rise of Aqualad" arc introduces a new Aqualad to the world. The story follows Jackson Hyde as he runs away from home to join the Teen Titans, thinking he might fit in. Jackson later learns a shocking family secret.
"The Rise of Aqualad" is action-packed and filled with big defining moments for Jackson and the rest of his new teammates. The story also takes an interesting twist by establishing Jackson as one of the DCU's few black LGBTQ+ heroes. It's a memorable and fun overarching story that establishes Jackson's character and hints at his later adventures.
9

The Titans' Final Stand in the DC Universe's Final Stories
As part of their Death Metal event, DC released a one-shot featuring "Together" written by Joshua Williamson, James Tynion IV, and Scott Snyder with art by Travis Moore and Tamra Bonvillain and lettering by Deron Bennett. It featured the Titans of the past and present preparing for the looming final battle to save their universe.
RELATED: Tales From The Dark Multiverse: 10 Most Disturbing Deaths (So Far)
"Together" feels like a love letter to the Teen Titans, highlighting creative designs nodding to the team's previous iterations and showcasing artwork that enriched heartfelt moments. Featuring the return of Roy Harper and Wally West and ending with a rallying call from Donna Troy, the story charges the team and readers for their fight in the next issue.
8

"Family Lost" brings Raven back from the grave
In Geoff Johns' second collection Teen Titans (Vol.3) run – covering issues #8-12 featuring art by Tom Grummett, Kevin Conrad, Jeromy Cox, Comicraft, Mike McKone, Marlo Alquiza, Norm Rapmund, and Larry Stucker, Raven resurfaced and the team tracked her down, fearing the worst. The last time she appeared, Raven lost the battle against her father and his legacy, and her friends destroyed her, leaving only her soul behind.
In this arc, the Teen Titans face off against a new Brother Blood and his cult as they fight for Raven's life. The Teen Titans also confront Deathstroke when he returns with his daughter Rose Wilson, who now calls herself Ravager. This story will please Raven fans by bringing a core member of the Titans back into the fold.
seven

Young Justice and the Teen Titans merge in "A Kid's Game"
Accompanied by artwork from Mike McKone, Marlo Alquiza, Jeromy Cox, Comicraft, Tom Grummett, Nelson Conrad and Kevin Conrad, Geoff Johns got the Titans back in shape. Featuring members of the disbanded Young Justice team, the first 7 issues of Teen Titans (Vol.3) introduces intriguing storylines that would unfold throughout the series.
Placing Starfire and other Titans in mentor roles gives the series a sense of familiarity for fans of the previous lineup. With a new team, the reappearance of Deathstroke, and new mysteries, Johns' Teen Titans run is a must read.
6

The Justice League, the Titans, and a Global Threat in Technis Imperative
The Teen Titans and Justice League battles are an enticing idea, and JLA/Titans: the Technis imperative is no exception. With illustrations by Phil Jimenez, Andy Lanning, Jason Wright, Paul Pelletier, Mark Buckingham, Dexter Vines and Wade Von Grawbadger and letters from Comiccraft, Devin Grayson and Jimenez deliver a gripping story that pits the two teams against a danger that threatens the entire planet.
RELATED: DC: 10 Villains The Justice League & Teen Titans Must Team Up Against To Take Down
This classic Titans story has gone down as one of the biggest events in the team's history. Great action sequences, heartfelt moments between the core members of the Titans, and high stakes make for a thrilling read from start to finish.
5

"Who is Donna Troy?" Explore the origin of Wonder Girl
Before 1984, Donna Troy was a mystery to readers because she hadn't been given a proper origin story. However, this has been rectified in The New Teen Titans #38 by Marv Wolfman, George Perez, Roméo Tanghal, Adrienne Roy and Ben Oda. Donna's fiancé, Terry, has hired Robin to help find out more about Donna's past.
In the moving story that follows, Donna reminisces about her childhood and Themyscira, home of the Amazons. The comic also highlights Robin's detective skills as he helps Donna uncover the mysteries surrounding her life.
4

"Titans: Legacy" challenges the Titans and the Justice League
In Titans Annual (Vol.3) #1 by Dan Abnett and illustrated by Norm Rapmund, Minkyu Jung, Adriano Lucas and Carlos M. Mangual, members of the Titans and the Justice League are abducted. When Batman, Aquaman, Barry Allen's Flash, and Wonder Woman encounter Nightwing, Tempest, Wally West's Flash, and Donna Troy, tension mounts and the groups clash.
The course of events forces mentors and their mentees to reevaluate their relationships with each other and examine their team dynamics. "Titans: Legacy" proves a fun read features a reveal that has implications for the rest of the Titans run.
3

Raven's worst nightmare comes true in "The Terror of Trigon"
Illustrated by George Perez, Adrienne Roy, Todd Klein, Bob Lappan and Romeo Tanghal, the "Terror of Trigon" story arc remains one of the darkest stories in The New Teen Titans series by Marv Wolfman and Perez. The five-issue story revolves around Raven, who slowly succumbs to the evil influence of her father Trigon.
RELATED: 10 DC Heroes With The Worst Parents
From the reappearance of Raven's mother to the psychological torture of the Titans by their teammate, "Terror of Trigon" gets intense. The underrated epic forces the team to confront their inner demons and determine if they can save their friend. Due to its compelling narrative, this script has been adapted for television and film.
2

The New Teen Titans (Vol. 1) introduces a new team
Relaunched after the success of the original Teen Titans series, the team made an epic comeback. New members Starfire, Cyborg, and Changeling (Beast Boy) joined founding members Robin, Wonder Girl, and Kid Flash to help Raven fight the demon lord Trigon.
The first eight issues have been an exciting start to a now-iconic series, with solid character introductions and a mystery that unfolds as the story progresses. This series, helmed by Marv Wolfman and George Perez, became an instant classic and established the team's best-known and best-received release. It's a great starting point for fans who want to learn more about the team.
1

Spies, betrayal and team change in "Judas Contract"
Many consider "Judas Contract" to be the most iconic Teen Titans story of all time. George Perez and Marv Wolfman strike gold again with a powerful and personal story, complete with art from Perez, Dick Giordano, Adrienne Roy, John Costanza, Mike DeCarlo, Ben Oda and Todd Klein.
"Judas Contract" reveals that Terra is a spy for Deathstroke, who seeks revenge for the death of his son Ravager. Adding to the tension, Kid Flash quits the team and Dick Grayson steps down as Robin. These elements make the arc an exciting read for Titans fans new and old, and it cements Deathstroke's place as one of the team's most fearsome villains.
NEXT: 10 Saddest Teen Titan Sacrifices